HOW TO SMOKE A WHOLE CHICKEN ON A PELLET GRILL (RECIPE)
HOW TO SMOKE A WHOLE CHICKEN ON A PELLET GRILL (RECIPE)
A STEP BY STEP GUIDE TO SMOKING A WHOLE ROASTER CHICKEN ON A PELLET GRILL/SMOKER.
Smoked Whole Chicken is one of the most common things we cook on our smokers, and you'll see just how easy it is to do on your smoker or grill.
Our collection of grills and smokers are like our kids, we can't choose a favorite. They're each unique in their own way, they all have their strengths and also downfalls, and we love them all for different reasons.
Between a simple kettle grill, gas grill (which we no longer own), pellet grills, ceramic grills, offset wood burner, we've tried out our favorite recipes on pretty much every style of grill that's out there.
Our first smoker was actually a pellet smoker (also called pellet grill). And our current pellet grill is a MAK Grill. It's a great machine, and we also love that they're a local Oregon company based about an hour south of us.
Chicken is one of the most common things we get requests for, and also one of our family favorites. You can do so much with chicken!!! Even if we're not cooking chicken for dinner on a particular evening, you'll often find me smoking a whole chicken to use in recipes throughout the week (taco Tuesday anyone?). Plus the carcass makes the best smoked chicken stockyou'll have!
If we're grilling (i.e. hot and fast) chicken, we typically break the chicken up into smaller pieces, because each piece cooks at a different time (the breasts taking the longest).
BUT for low and slow chicken we love doing a whole chicken because it comes to temperature much slower and more consistent. Sure you can spatchcock it, but a whole chicken makes for a pretty presentation and no need to worry about cutting your chicken in half prior to the cook.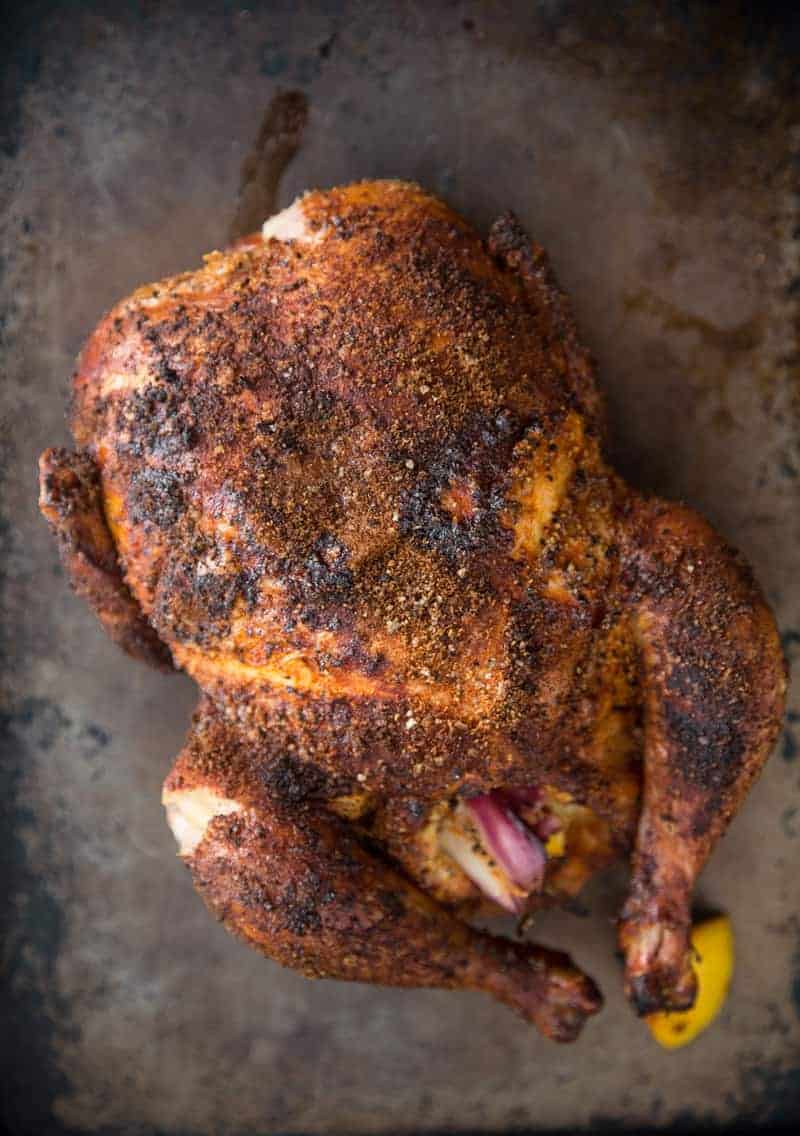 So if you've never smoked a whole roaster chicken before in your pellet smoker, get excited. You may be doing it much more often now.
HOW TO SMOKE A WHOLE ROASTER CHICKEN ON A PELLET GRILL
It's pretty simple actually.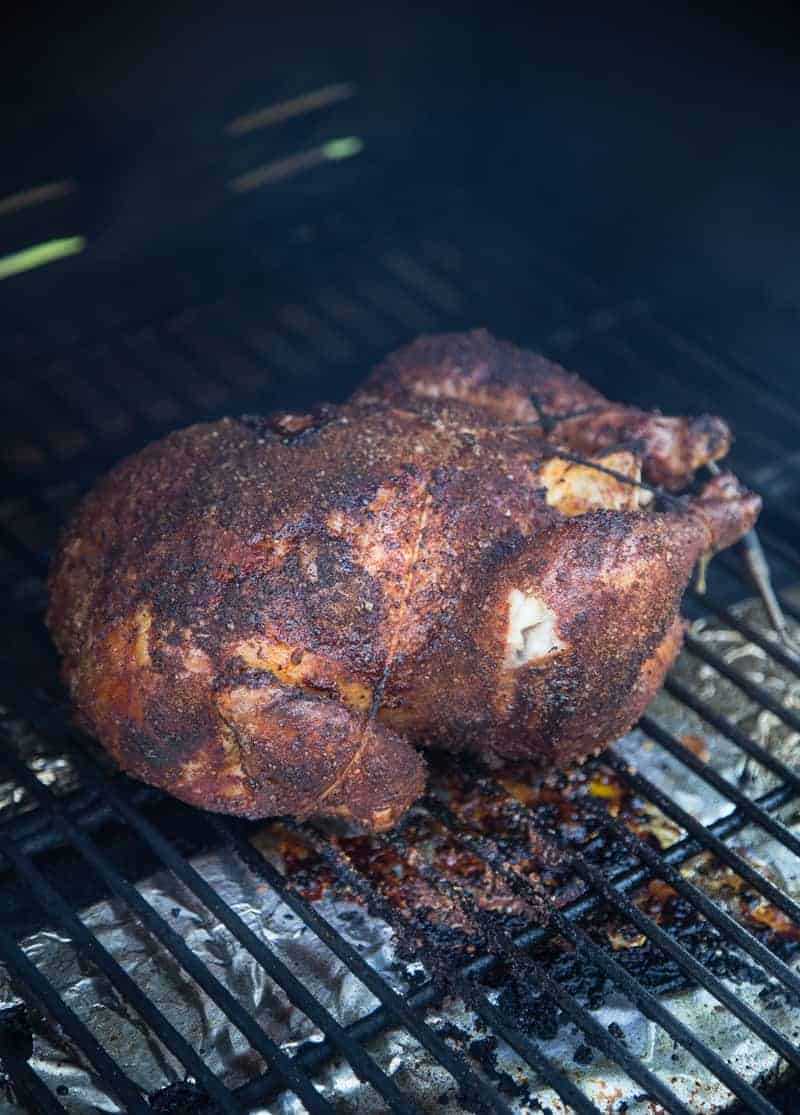 Get your grill pre-heated to 225 degrees (we like to use apple wood).
Clean and pat dry your chicken and cover with dry rub. You can go simple with salt, pepper, garlic (or the addition of rosemary like in this recipe). But we love the flavor and color from this dry rub. It's a great all purpose dry rub for chicken or pork. We also like to stuff the cavity to add additional flavor (we like to stuff it with lemon, onion, and garlic. You can also add some herbs like thyme or rosemary).
Next we tie up the wings and legs to get them closer the body of the chicken so they don't dry out or overcook.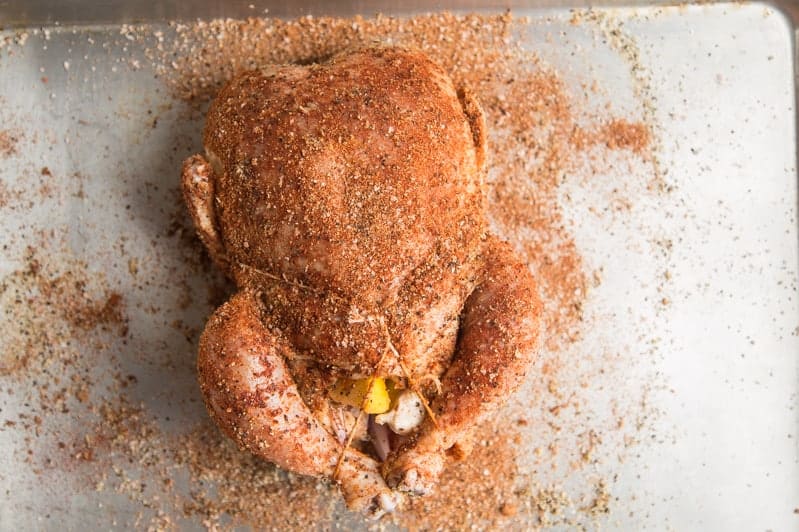 BEST TEMPERATURE TO SMOKE A WHOLE CHICKEN AT
We start at 225, keeping it fairly low, just to let it rise in temperature. Then when it's close to done (130 degrees F internal temp) we'll raise the temperature of the grill to 350 degrees F to ensure a nice crispy outer skin. If you go too hot, it can overcook parts of the meat, so that's why we shoot for 350 after the initial smoke.
Pro Tip: If you smoke at a low the entire time, it may also lead to rubbery skin. That's why we like to increase the temperature during the last 30-60 mins.
Alternatively you can roast it at the same temperature that you would in the oven (375 degrees) like this recipe. But you won't get as much of a sweet smoke flavor as it will cook much quicker. We prefer to do it this way for full flavor intensity!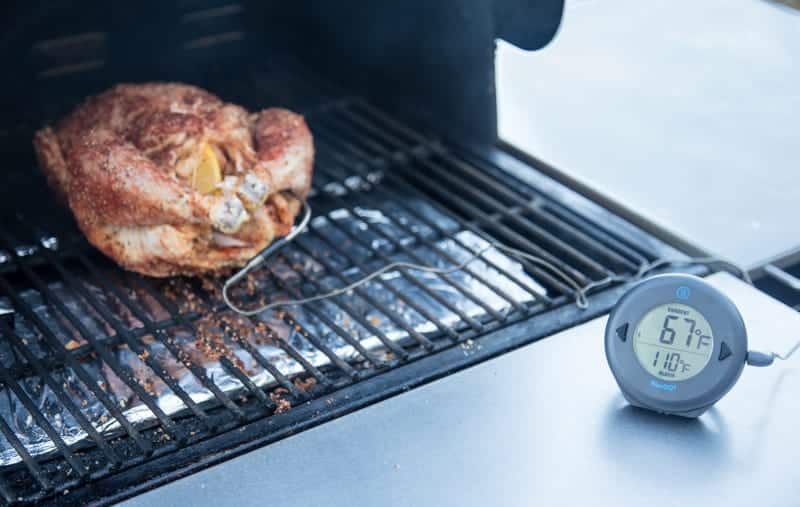 If you can we like to insert a leave-in thermometer to monitor temps, like this BlueDOT Bluetooth Thermometer from ThermoWorks. This one is great because you can monitor the temps from your phone via an iPhone app, or just check on the receiver so you don't have to constantly open and shut your lid. Make sure to insert it into the thickest part of the meat, where it will take the longest time to cook.
Alternatively, you can use any digital thermometer to occasionally check temps in the breast and thighs.
After about one hour at 225 degrees F we raise the temperature of the smoker to 350 degrees to finish it off. This is going to allow the skin to get hot and crispy.
Once the internal temperature of the chicken is at 165 degrees it's ready to come off. Let it rest about 10 mins then dive in! It's hard to say how long exactly that will take, as even a 1 lb difference in your chicken will make a big difference in cooking times.
For reference this particular example was a 3.5 lb bird, and it was on 225 for about 1 hour, then about 45 mins at 350 degrees. Your chicken will vary based on different factors. Always go by temperature, not exact time.
Make sure to save that chicken carcass for stock. Check out how we make smoked chicken stock here.
Enjoy!
Smoked Whole Roaster Chicken
Prep Time 10 mins
Cook Time 1 hr 45 mins
Total Time 1 hr 55 mins
Course: Entree
Cuisine: American, BBQ, Barbecue
Keyword: pellet grill smoked whole chicken, smoked whole chicken, whole roaster chicken on pellet smoker
Servings: 4 -6 servings
Ingredients
1 3-4 lb whole roasting chicken, (we prefer organic birds, which can be on the smaller side)
1/4 cup dry rub (see notes), the exact amount will vary based on exact size of your bird
4 cloves garlic, lightly smashed
1/2 red onion, roughly chopped
1/2 lemon, sliced in half to fit inside the chicken cavity
Instructions
Preheat smoker to 225 degrees (we used apple wood).
Remove any giblets from the cavity of the chicken. Clean and pat dry your chicken and cover with dry rub.
Optional: Stuff the cavity of the bird with garlic cloves, onion, and lemon (cut up).
Next tie up the wings and legs to get them closer the body of the chicken so they don't dry our or overcook.
Place on smoker for one hour. Then, after one hour, increase temperature of the smoker to 350 degrees, and leave until the internal temperature of the thickest part of the bird reads 165 degrees (this could take up to another hour depending on the size of your bird).
Remove, and let sit for about 10 minutes, then slice and serve.
Recipe Notes
*This can be adapted to whatever smoker you have. But it's quite easy for a pellet smoker as you can control the temperatures quite easily on them.
WINE PAIRING FOR SMOKED CHICKEN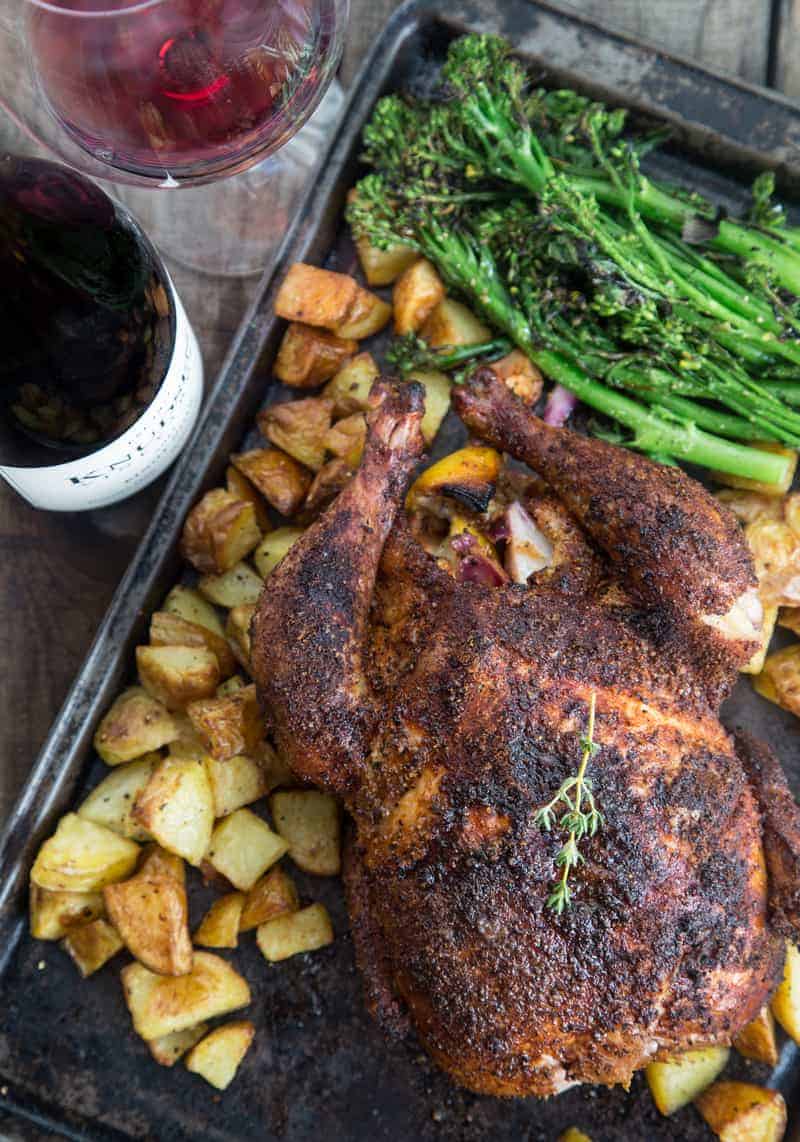 I typically reach for a Chardonnay or full bodied white wine with whole chicken recipes (pending they do not have any BBQ sauce on them, like this one). But because of the dry rub we use, which has some bold and smoky flavors, we opt for red. In this case Pinot Noir. But you're going to want a bolder style Pinot Noir for this (nothing too delicate). Côtes du Rhône blends work well too. You want something fruity, but not too intense or tannic (think Cab). Remember, there's no sauce on this, just the tender meat and dry rub on the crispy skin. Zinfandel works nicely too, as long as it's not too intense of a Zin.
BERITA LENGKAP DI HALAMAN BERIKUTNYA
Halaman Berikutnya