ONE PAN LEMON GARLIC PASTA
ONE PAN LEMON GARLIC PASTA
Getting a meal on the table in 20 minutes can be a challenge, but with this easy one Pan Lemon Garlic Pasta, it doesn't have to be. Pasta, lemon and garlic all cook together in one pan – making clean-up a snap!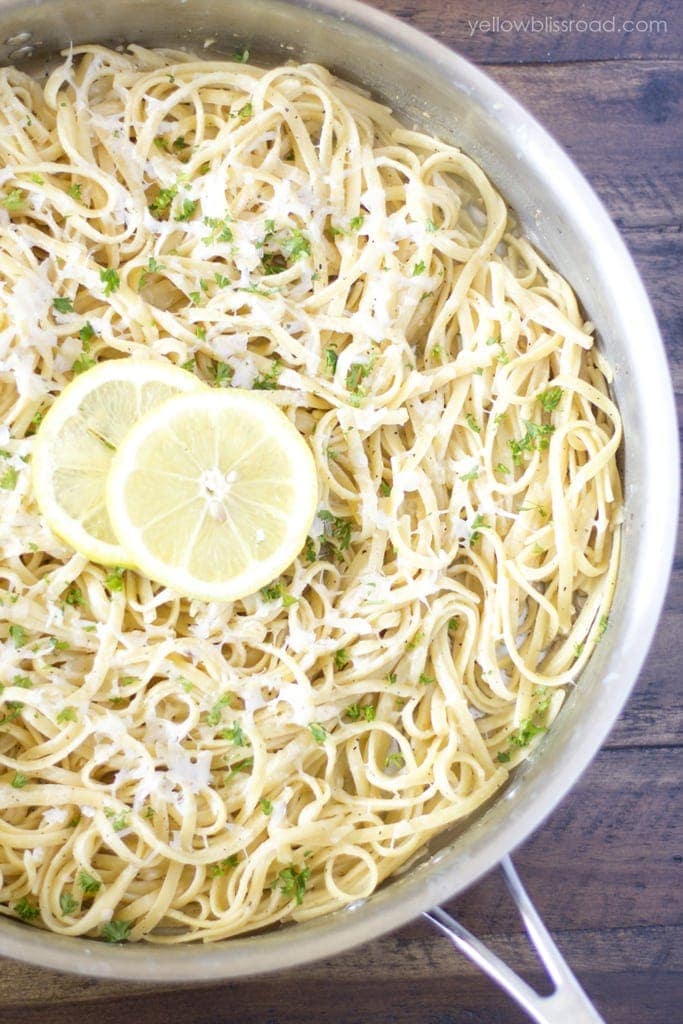 ONE PAN LEMON GARLIC PASTA
INGREDIENTS
1 pound (16 oz. box) Linguine, uncooked
1/4 cup butter, divided
1 tablespoon minced garlic or 4 cloves, finely chopped
Juice and zest from 1 lemon
Salt & Pepper
2 Tablespoons chopped fresh herbs like parsley or basil
1 cup freshly shredded Parmesan cheese
4 cups water
INSTRUCTIONS
Heat 2 tablespoons of butter over medium heat and cook garlic for 30 seconds to a minute, just until fragrant (careful, as it burns quickly).
Add water, linguine, remaining butter, lemon juice and zest and salt and pepper to the skillet. Bring to a boil over medium-high heat and reduce to medium. Continue to cook pasta until nearly all water is evaporated, stirring often to keep pasta from sticking, about 8-9 minutes. (If pasta needs more cooking time, add a little more hot water).
Remove from heat and stir in about 3/4 cup cup shredded Parmesan Cheese and fresh herbs.
Divide into bowls and garnish with remaining Parmesan, freshly cracked black pepper and a quick squeeze of lemon juice (option).
BERITA LENGKAP DI HALAMAN BERIKUTNYA
Halaman Berikutnya