MINI STRAWBERRY PIES WITH SUGAR COOKIE CRUST
MINI STRAWBERRY PIES WITH SUGAR COOKIE CRUST
Mini Strawberry Pies loaded with the most unbelievably delicious strawberry pie filling all nestled in easy soft and chewy, buttery, sugar cookie crusts = the most adorable, crowd pleasing, make ahead dessert!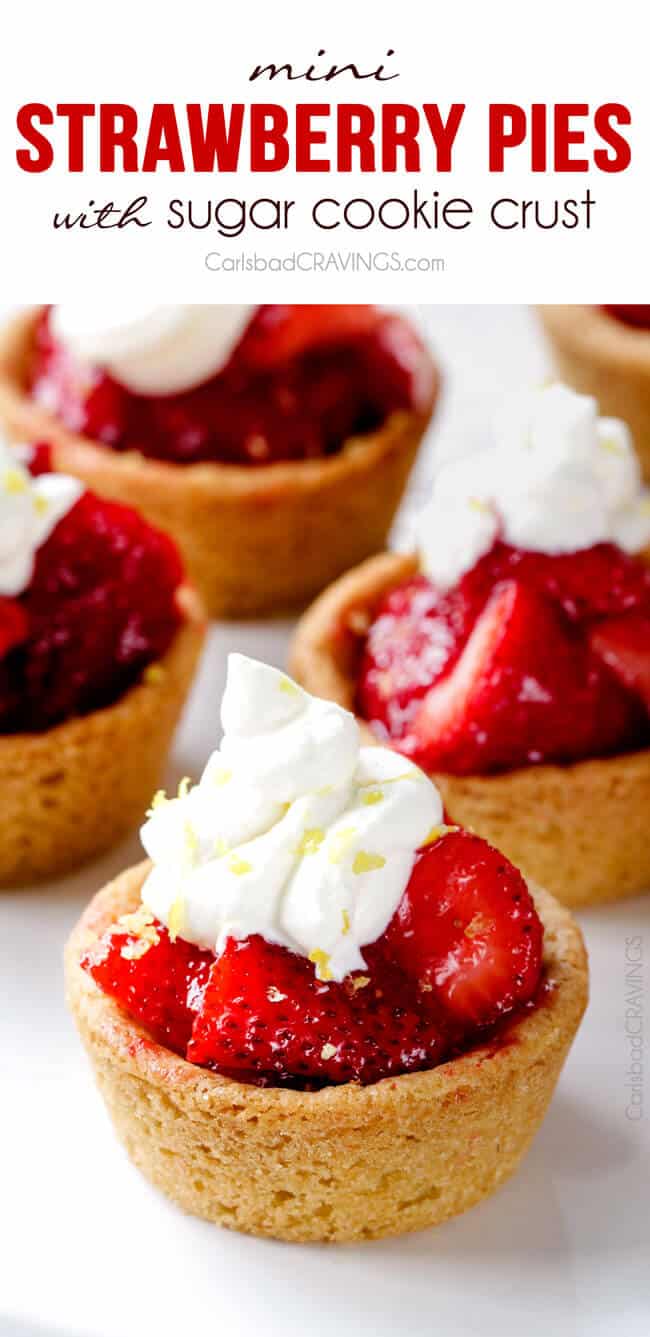 Mini Strawberry Pies with Sugar Cookie Crust
Prep Time 30 minutes
Cook Time 20 minutes
Servings 12 pies
INGREDIENTS
1 16 oz. package Pillsbury refrigerated sugar cookie dough
Strawberry Filling
2 pounds strawberries hulled, halved divided
1/2 cup water
1/3 cup sugar
1 1/2 tablespoons cornstarch
1 Pinch salt
3 tablespoons strawberry gelatin (powdered Jell-O)
2 teaspoons lemon juice
Whipped Cream
1 cup heavy whipping cream
2 tablespoons sugar
INSTRUCTIONS
Sugar Cookie Pie Crust
NOTE - Sugar Cookie Pie Crusts can be made first and stored in an airtight container once cooled (up to 24 hours in advance) or made and cooled right before filling with strawberries.
Preheat oven to 350 degrees F.
Grease a 12-cup muffin tin with nonstick cooking spray with FLOUR or grease and flour your pan. Cut cookie dough into 12 even slices and press into the bottom and about 2/3 up the sides of prepared muffin cups.*
Bake for 18-20 minutes or until edges are barely golden. Let cool 5 minutes then gently transfer to a wire rack to cool completely (about 20 minutes). If your mini crusts don't cave in the center after cooling, then gently press the insides down with the bottom of a tablespoon.
Strawberry Glaze
Add 1 cup roughly chopped strawberries and 1/2 cup water to a blender and puree until smooth, scraping down sides as needed.
Add puree to a small saucepan along with cornstarch, sugar and a pinch of salt. Cook over medium high heat, stirring constantly, until thickened, being careful not to over-thicken (or your glaze will be more like Jell-O consistency once cooled). Transfer to a large bowl and stir in Jell-O and lemon juice. Cool to room temperature. Set aside.
Strawberry Filling
Slice any extra large strawberry halves into quarters and add all strawberries to cooled Strawberry Glaze and stir until evenly coated. Refrigerate for at least 2-5 hours, up to 24.
When ready to serve, spoon filling into cooled cookie cups.
Whipped Cream
When ready to serve, place a metal mixing bowl and metal whisk in the freezer for 10 to 15 minutes. Remove and add sugar and heavy cream. Whisk over medium high speed until stiff peaks form. Dollop mini pies with cream. Serve immediately.
RECIPE NOTES
*I dip my fingertips in flour before I press the dough into the cups – makes the dough super easy to work with.
BERITA LENGKAP DI HALAMAN BERIKUTNYA
Halaman Berikutnya