EASY SLOW COOKER CHICKEN LO MEIN NOODLES {CROCK-POT}
EASY SLOW COOKER CHICKEN LO MEIN NOODLES {CROCK-POT}
Easy Slow Cooker Chicken Lo Mein – The perfect healthy crock-pot recipe for busy weeknights with authentic restaurant quality ingredients. Best of all, ONLY 15 minutes to prep & way better than takeout. Make it for your weekly meal prep & leftovers make great work lunches. Plus a video!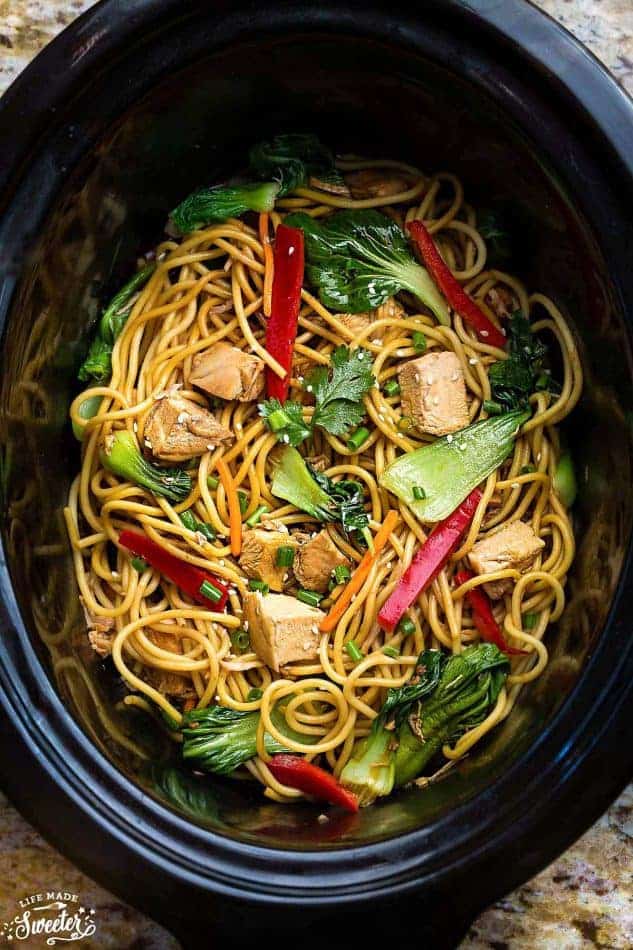 Slow Cooker Chicken Lo Mein Noodles - Meal Prep Lunch Bowls
Prep Time 15 mins
Cook Time 3 hrs 30 mins
Total Time 3 hrs 45 mins
Course: Main Course
Cuisine: Asian, Chinese
Keyword: asian noodles slow cooker, crock pot chinese recipe, easy lo mein recipe
Servings: servings
Calories: 404 kcal
Ingredients
1 pound boneless skinless chicken thighs or breasts
salt and black pepper to taste
2 cups fresh lo mein noodles or cooked spaghetti noodles
2 cups baby bok choy washed and sliced
1 red bell pepper seeded, thinly sliced
½ cup matchstick carrots
2 tablespoons corn starch + 3 tablespoons cold water
Sauce:
2/3 cup low sodium chicken broth
3 tablespoons oyster sauce
2 tablespoons low sodium soy sauce can substitute with coconut aminos or tamari
3 teaspoons hoisin sauce
2 teaspoons honey
2 garlic cloves minced
½ tablespoon fresh ginger minced
1/2 teaspoon red chili pepper flakes optional
sesame seeds for garnish, optional
Instructions
Lightly grease 4-5 quart slow cooker with non-stick cooking spray. Add chicken and season with salt and black pepper. In a medium bowl, whisk together all the ingredients for the sauce and pour over chicken. Cover and cook for 1 1/2 - 2 hours on high or 3-4 hours on low, stirring once to distribute sauce evenly.
Meanwhile, prepare noodles according to package directions and set aside.
Once chicken is cooked, transfer to cutting board and cut into cubes or shred with two forks.Toss back in to slow cooker along with bok choy, bell peppers and carrots. To thicken sauce, whisk together corn starch and water in a small bowl and stir into slow cooker. Cook on HIGH for an additional 20-30 minutes or until sauce has thickened up. Give everything a good stir to combine and coat with sauce.
Serve hot and garnish with sesame seeds, if desired.
Recipe Notes
Due to the lower heating element in older slow cookers, the sauce may not thicken in the slow cooker. If that is the case, spoon out all the sauce from the slow cooker into a small saucepan and bring to a boil on high heat until it thickens up. Combine with rest of ingredients and serve.
* Feel free to add in any other vegetables of your choice. Broccoli, snow peas and bell peppers would work well in this dish.
*Adding the fresh pre-cooked or cooked dry noodles JUST 20 minutes PRIOR to serving will ensure that the noodles will NOT get too soft and mushy.
**Use pork instead of chicken or extra firm or deep-fried tofu for a meatless meal. I also have a vegetarian version on my site.
BERITA LENGKAP DI HALAMAN BERIKUTNYA
Halaman Berikutnya