Easy Cinnamon Rolls
Easy Cinnamon Rolls
Easy Cinnamon Rolls is an understatement! There's no waiting for dough to rise–this is a quick, and delicious version of a favorite morning treat.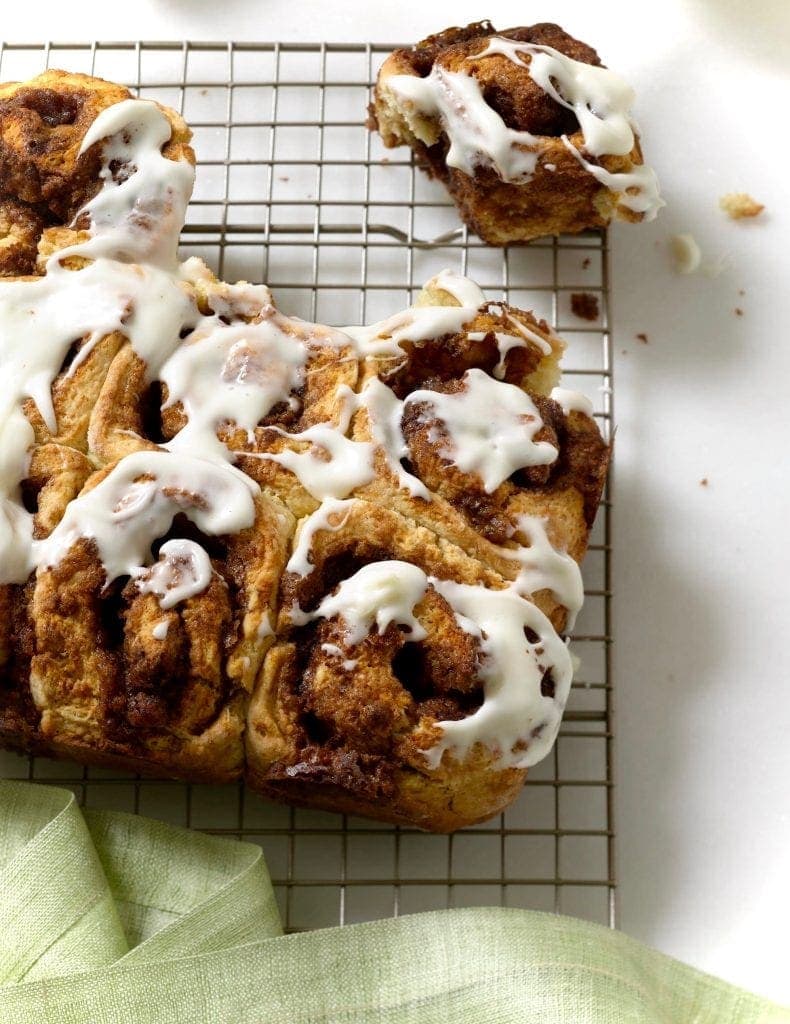 Easy Cinnamon Rolls
Work Time 30 mins
Cook Time 25 mins
Total Time 1 hr
Course: Dessert
Cuisine: American
Keyword: cinnamon rolls
Yield: 9 Rolls
Calories: 419 kcal
Ingredients
8 tbsp unsalted butter melted
¾ cup packed light brown sugar
5 tbsp granulated sugar
2½ tsp cinnamon
2⅔ cups all-purpose flour
1½ tsp baking powder
¾ tsp baking soda
¾ tsp salt
1 cup low-fat buttermilk
1 large egg
Icing:
¼ cup low-fat cream cheese softened
1 tbsp low-fat buttermilk
1¼ cups confectioners' sugar
Instructions
Heat oven to 425°F with rack in upper third. Coat a 9-inch square pan with cooking spray; set aside.
In a bowl, combine the brown sugar, 2 tbsp granulated sugar and cinnamon with 2 tbsp butter; set aside.
In a large bowl, whisk together the flour, 3 tbsp granulated sugar, baking powder, baking soda and salt. In another bowl, whisk together buttermilk, egg and 3 tbsp butter. Stir together the liquid and dry ingredients; dough will look rough. Knead on a floured surface until just smooth, about 5 turns.
Pat or roll dough into a 9-by-13-inch rectangle. Brush with 2 tbsp butter. Spread dough with brown sugar filling, leaving ½-inch border. Use a spatula to lift dough from surface and roll, starting at a long side, to form a tight log. Pinch seam to seal log and slice evenly into 9 pieces. Place in prepared pan swirl-side up and press rolls down slightly. Brush tops with 1 tbsp butter.
Bake until edges are just golden brown and rolls are cooked through, 22 to 25 min. Loosen rolls from pan and invert onto a plate; re-invert to right side up onto a rack. Cool 5 min before icing.
For icing: In a bowl, beat together cream cheese and buttermilk until smooth. Beat in confectioners' sugar to form icing; spread over rolls with knife. Serve rolls warm.
Recipe Notes
Trust me: it's worth the time to make these mouthwatering rolls from scratch rather than baking the prepackaged kind.
BERITA LENGKAP DI HALAMAN BERIKUTNYA
Halaman Berikutnya