CREAMY POTATO SOUP WITH BACON AND CHEESE
CREAMY POTATO SOUP WITH BACON AND CHEESE
This creamy potato soup recipe is simple to make and perfect for those days when you're looking for a comforting homemade soup.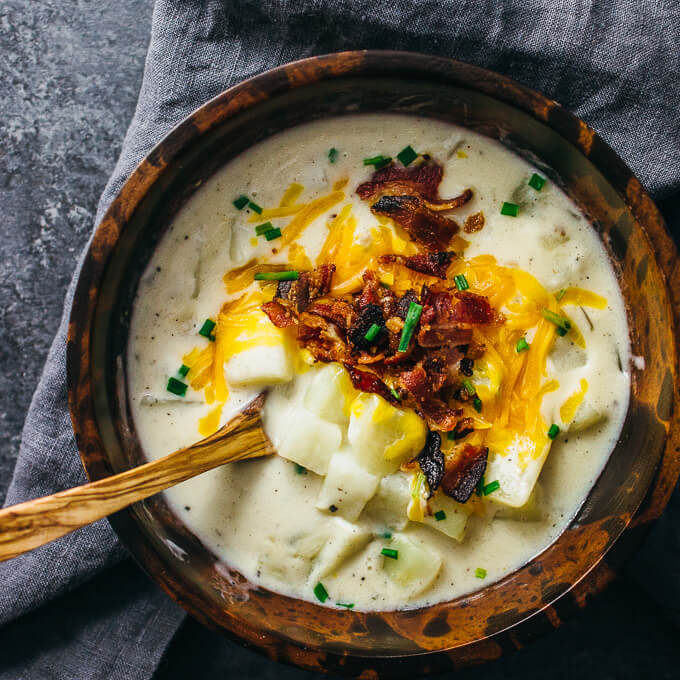 Creamy Potato Soup With Bacon And Cheese
Prep Time 15 minutes
Cook Time 40 minutes
Servings 4 servings
Calories 549 kcal
Ingredients
2 pounds Russet potatoes (about 2 large) peeled and cut into 1/2-inch pieces
6 bacon slices
1 onion chopped
10 garlic cloves minced
2 cups whole milk
2 cups water
1 cup shredded cheddar cheese
1/4 cup all-purpose flour
1 tablespoon chopped fresh chives
1 teaspoon salt
1/4 teaspoon pepper
Instructions
Heat a large pot or dutch oven over medium heat. Add bacon to the pot and cook until crispy, 10-15 minutes. Transfer to a paper towel to drain. When cool, crumble into small pieces.
Add onions to the pot with the bacon grease and cook until they soften, about 5 minutes, stirring occasionally.
Add potatoes, garlic, salt, and pepper to the pot. Cook for a few minutes, stirring frequently.
Add flour to the pot, and stir until the ingredients are well-mixed, a few minutes.
Add water and stir until well-mixed. Add milk and stir. Bring to a boil over high heat, and then reduce heat to medium-low to simmer until the potatoes are cooked, about 15 minutes, stirring occasionally to prevent potatoes from sticking to the pan's bottom.
Serve in bowls topped with crumbled bacon, shredded cheddar, and chopped chives.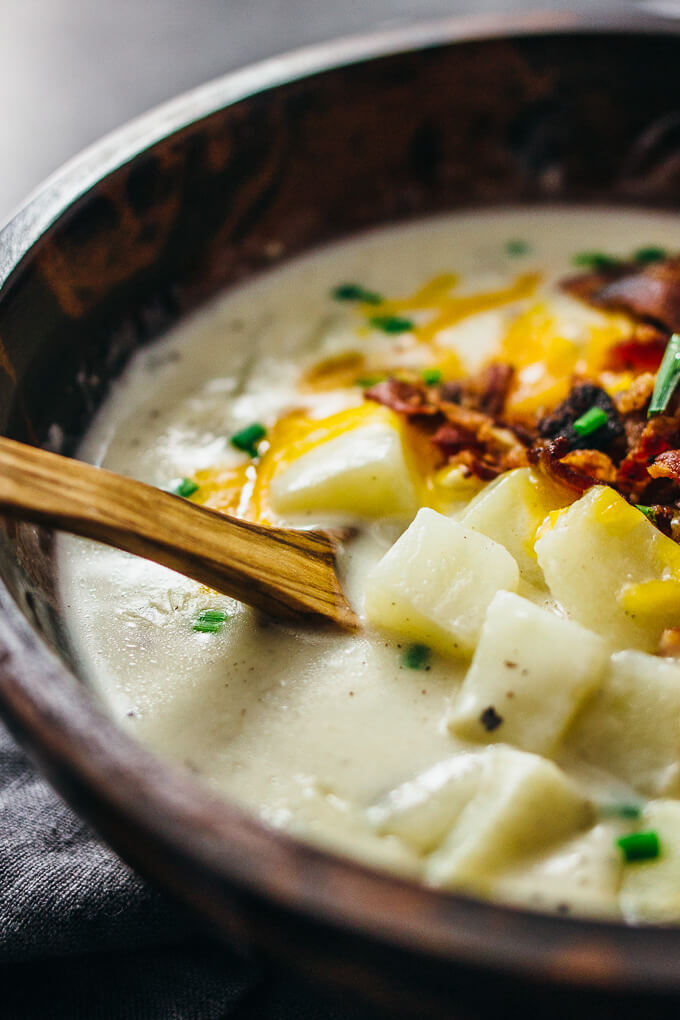 BERITA LENGKAP DI HALAMAN BERIKUTNYA
Halaman Berikutnya