Cheddar Topped Shepherd's Pie
Cheddar Topped Shepherd's Pie
It's the perfect recipe to make anytime you are looking for some hearty and delicious comfort food! This cheddar topped shepherd's pie is very filling, and this recipe makes a generous amount so it's great for feeding a small crowd – or (better yet) to have for leftovers the day after!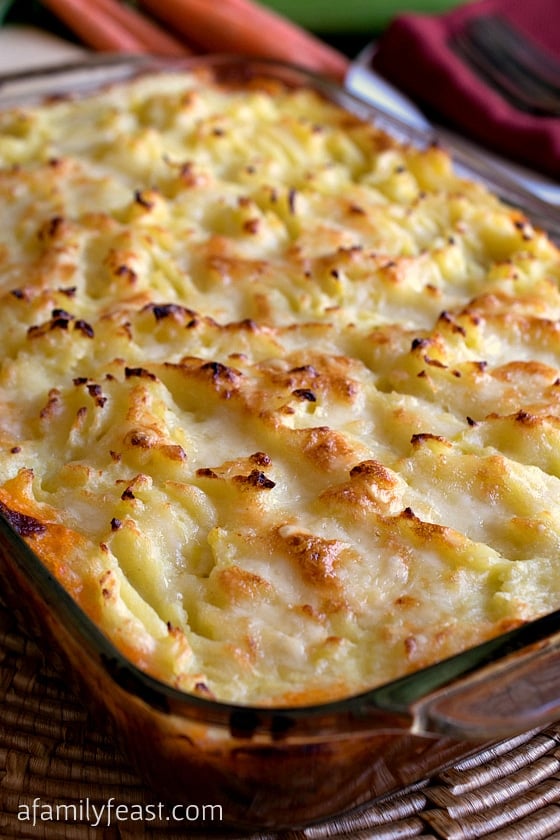 Cheddar Topped Shepherd's Pie
Prep Time: 45 mins
Cook Time: 30 mins
Total Time: 1 hour 15 minutes
Yield: 10-12 servings
INGREDIENTS
2 pounds yellow potatoes (such as Yukon Gold), peeled and cut into even-sized chunks
Kosher salt
1 tablespoon vegetable oil
4 cups peeled and thinly sliced carrots, (about 6 medium carrots)
2 cups thinly sliced celery, (about 4 stalks)
2 cups onion, chopped into 1/2 inch dice (about 1 large onion)
3 cloves garlic, chopped
1 teaspoon dried thyme
1 teaspoon dried oregano
2 pounds lean ground beef (85/15 mix)
1 cup water
1/4 cup all-purpose flour
1 six-ounce can tomato paste
Dash of hot sauce
1 teaspoon browning & seasoning sauce such as Kitchen Bouquet
1 teaspoon Worcestershire sauce
Freshly ground black pepper (to taste)
Kosher salt (to taste)
2/3 cup milk (plus more as needed)
8 ounce block extra sharp white cheddar, shredded (reserve 1/2 cup of the shredded cheese to use as a topping)
INSTRUCTIONS
Preheat oven to 450 degrees.
Place peeled potatoes in a large pot and cover with salted water. Bring to a boil and then reduce to a simmer. Cook until potatoes are soft enough to mash – easily pierced with a knife or fork (15 to 20 minutes).
While potatoes are cooking, heat oil in a heavy bottomed 6 quart pot over medium-high heat. Add carrots, celery, onion, garlic, thyme and oregano. Cook, stirring occasionally, until vegetables are tender (approximately 10 minutes). Add ground beef and stir into vegetables. Cook mixture until beef is no longer pink. Add 1 cup water and bring to a boil, simmering for 1 minute. Add flour, tomato paste, hot sauce, browning and seasoning sauce, Worcestershire sauce, and salt and pepper (adjusting to your taste) and cook, blending well for about a 1 minute. Remove from heat.
Drain potatoes well and return to the pot. Mash the potatoes and then add milk and all but ½ cup of cheddar cheese, stirring to mix well so the cheddar begins to melt. Stir until smooth, adding additional milk if necessary. Season cheddar-potato topping with salt and pepper to your liking.
Pour beef filling into a 13-by-9-inch ungreased baking dish. Drop dollops of the potato mixture over the beef filling and spread the potatoes to the edges of the dish with a spatula.
Using a fork, make decorative peaks in the mashed potatoes, and then sprinkle with the remaining 1/2 cup of grated cheese.
Place a sheet of aluminum foil on the center rack of your oven to prevent any oven spills, and then place the baking dish on the foil in the oven. Bake at 450 degrees until topping is browned and filling is bubbling rapidly, about 25-30 minutes. Let stand 5 minutes or longer to set up before serving.
BERITA LENGKAP DI HALAMAN BERIKUTNYA
Halaman Berikutnya