Apple Cake with Butterscotch Sauce
Apple Cake with Butterscotch Sauce
This Apple Cake with Butterscotch Sauce cannot be anymore perfect. The combination screams fall, doesn't it? Apple desserts are always a hit this time of year. Add in a little butterscotch sauce and you have a dessert made in heaven.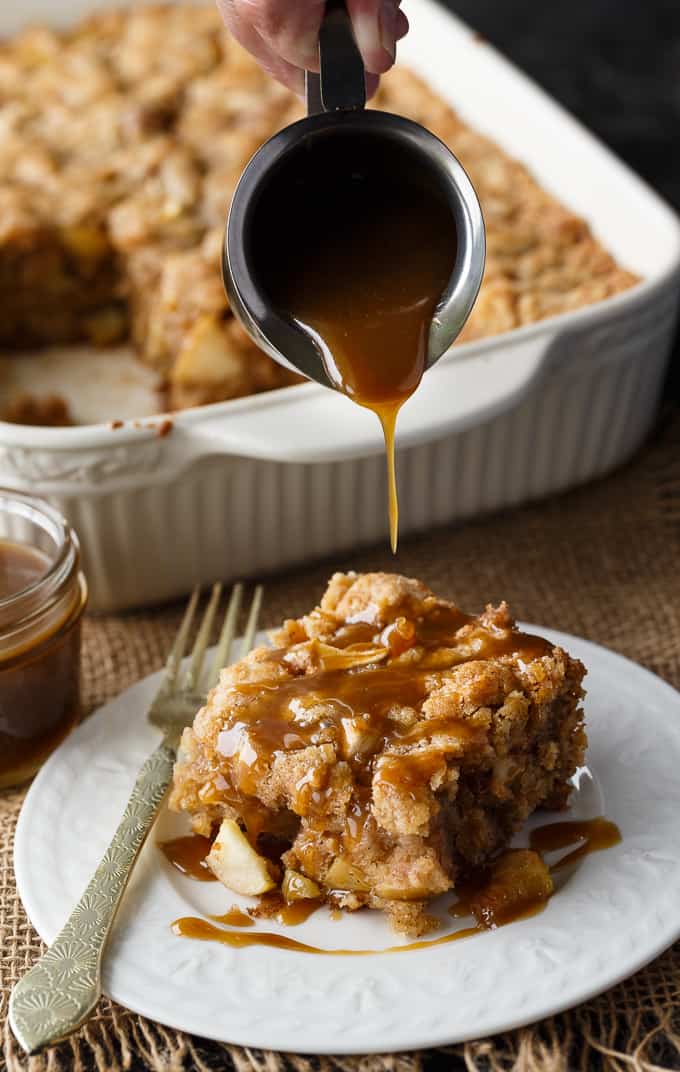 Apple Cake with Butterscotch Sauce
yield: 12
prep time: 20 MINUTES
bake time: 30 MINUTES
total time: 50 MINUTES
Moist apple cake filled with chunks of fresh apples. The sweet, silky butterscotch sauce is a delicious finishing touch.
Ingredients
apple cake
2 cups sugar
1 cup vegetable oil
3 eggs
2 tsp vanilla extract
3 cups flour
1 tsp salt
1 tsp baking soda
2 tsp cinnamon
4 cups apples, chopped
butterscotch sauce
1 cup brown sugar
1/4 cup heavy cream
1/2 cup butter
Get IngredientsPowered by Chicory
Instructions
Apple Cake
Preheat oven to 350F. Grease a 9x13 baking pan and set aside.
In a large bowl, stir together sugar, oil, eggs, vanilla, flour, salt, baking soda, cinnamon and apples. Pour into baking pan.
Bake for 30 minutes or until golden brown.
Butterscotch Sauce
Add heavy cream, brown sugar and butter to a saucepan over low medium low heat. Boil for 4 minutes. Serve over baked cake.
Notes
I used Gala apples in this recipe. Use whatever you have on hand.

BERITA LENGKAP DI HALAMAN BERIKUTNYA
Halaman Berikutnya