ALMOND AMARETTO POUND CAKE
ALMOND AMARETTO POUND CAKE
Almond Amaretto Pound Cake: a sweet, moist homemade pound cake flavored with almond extract and amaretto liquor, topped with a warm buttery amaretto sauce.
Are you looking for the best poundcake recipe ever? Well guess what, I have it for you!
I know you might have heard that before, but I promise, this Almond Amaretto Pound Cake is AMAZING.
It is a super crazy moist, perfectly dense, poundcake flavored with amaretto liqueur and almond extract.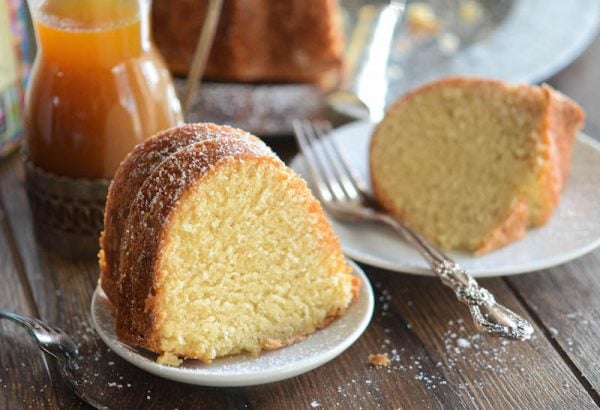 Then it's topped with a warm buttery amaretto sauce to really put it over the top.
I promise, you are going to LOVE this new cake almost as much as you love your kids. (Kidding, kind of.)
The first time I made this cake I was salivating at the smell coming from my oven, but was still nervous when it came time to cut it.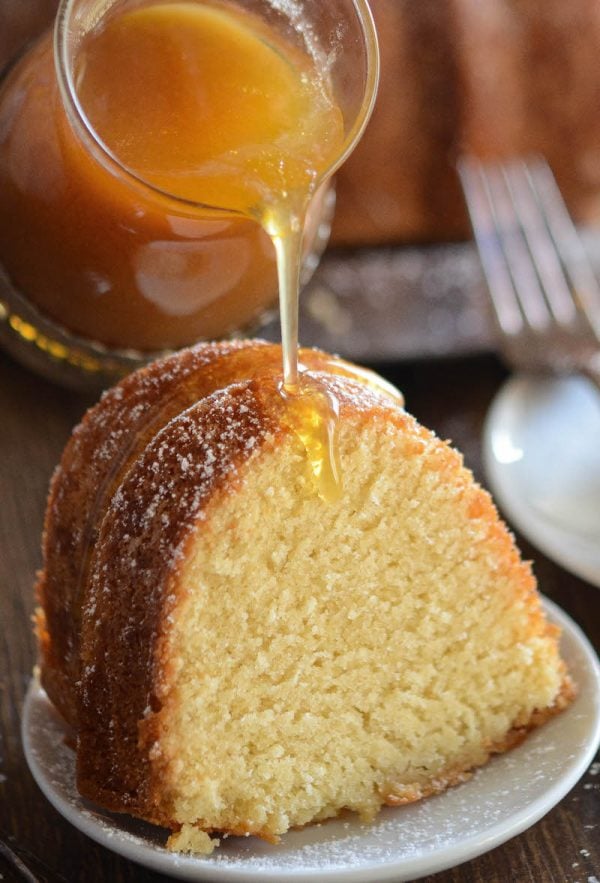 I was trying out a new recipe with more amaretto than I would usually add.
I was a little scared that I might loose the traditional pound cake texture and wind up with a fluffy cake instead.
Thankfully the first slice I cut proved that the cake was the perfect texture and the smell alone was killing me.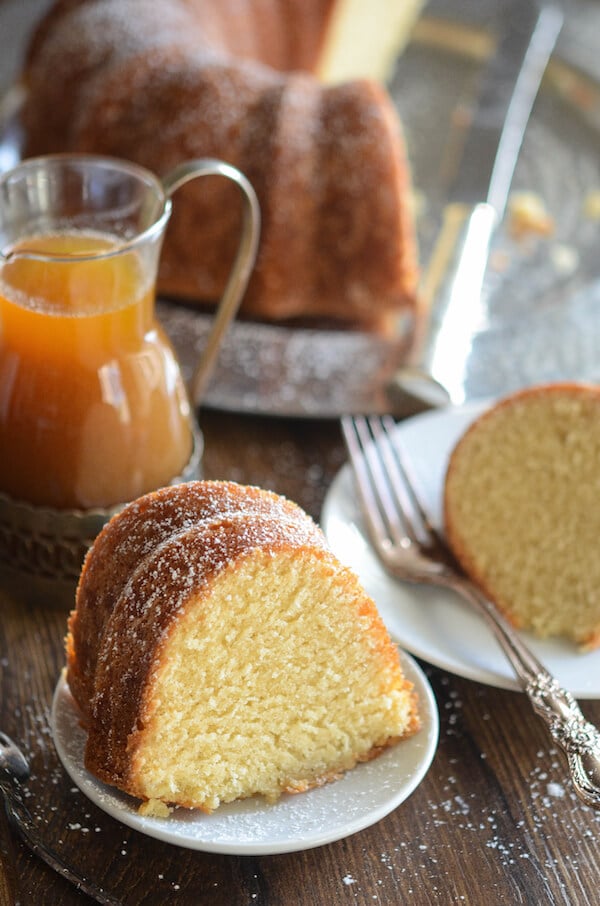 I quickly whipped up the sauce for it and we were all on our second slice before I knew what had happened.
I have now made this cake 3 times and every single time it has been a massive hit with all of our guests.
People literally BEG for the recipe! Seriously, beg. I am not kidding.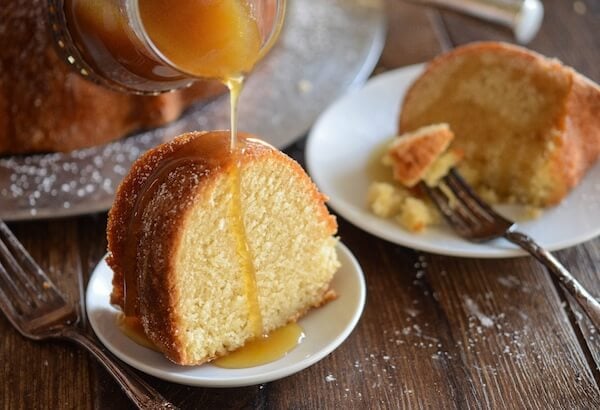 The pound cake alone makes a great breakfast cake, but the warm buttery amaretto sauce transforms it into an impressive dessert.
Recipe Tip: If you need to make your sauce ahead of time, store it in the refrigerator and reheat it in the microwave in 30 second increments, stirring each time, until hot.
You can use any alcohol that you would like, but amaretto has such a mild taste with light hints of almond and cherry that it works perfectly in this pound cake.
It is not too strong and my kids seriously gobbled it up. (Pssst — don't worry, the actual alcohol burns off while baking the cake and simmering the sauce.)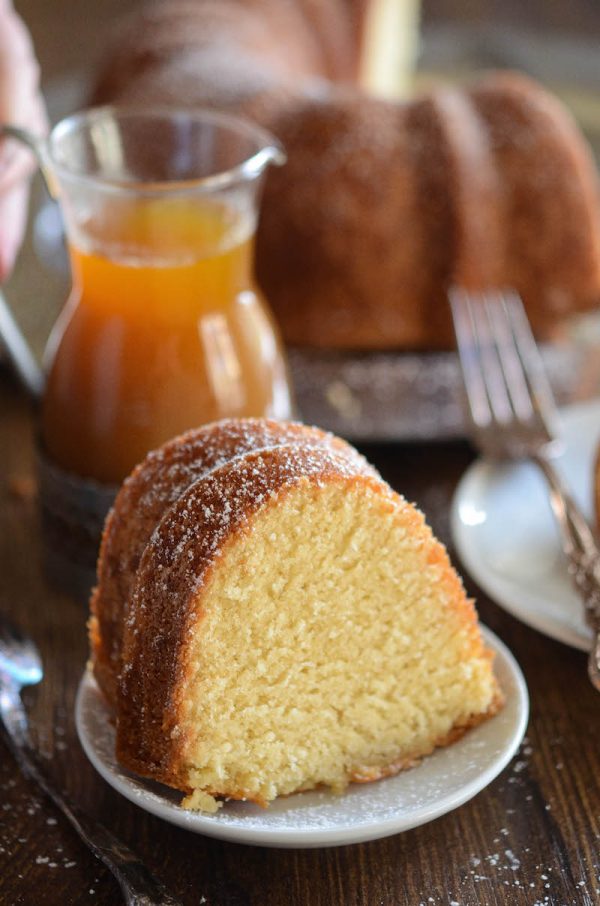 Head on over to Dixie Crystals for the full recipe I developed for them!
I know you are going to love this one!
RECIPE: Almond Amaretto Pound Cake

ALCOHOL BUNDT CAKE CAKE DESSERT HOLIDAY VIDEO
INGREDIENTS
1 cup whole milk
1 tablespoon white vinegar
3 cups all-purpose flour*
1/2 teaspoon baking soda
1/2 teaspoon salt
1 cup (2 sticks) unsalted butter, softened
2 3/4 cup Imperial Sugar Extra Fine Granulated Sugar
4 large eggs
1 tablespoon vanilla extract
2 teaspoons almond extract
1/4 cup amaretto
Amaretto Sauce
1/2 cup (1 stick) unsalted butter
1/2 cup packed Imperial Sugar Light Brown Sugar
1/2 cup Imperial Sugar Extra Fine Granulated Sugar
1/3 cup half & half
3 tablespoons amaretto
*Spoon & Sweep method: Use a spoon to fill measuring cup with flour until required amount is obtained. Scooping measuring cup directly into flour bag will firmly pack flour resulting in too much flour required for recipe.
DIRECTIONS
Preheat oven to 325°F. Grease a 10-inch bundt pan with baking spray or butter and flour it. Set aside.
In small bowl, whisk together milk and vinegar. Set aside. In a medium bowl, whisk together flour, baking soda and salt. Set aside.
In large bowl of stand mixer, cream butter and sugar until light and fluffy. Beat in eggs one at a time, then stir in vanilla and almond until well combined. Beat in flour mixture alternating with milk and amaretto.
Pour batter into prepared bundt pan. Bake for 55 to 65 minutes, until center is set and a toothpick inserted comes out clean. Allow cake to cool completely (in bundt pan) before inverting onto cake plate.
Amaretto Sauce: Combine the butter, brown sugar and granulated sugar in a small saucepan. Heat over medium heat, stirring often, until smooth. Add the cream and amaretto and bring to a simmer. Simmer for 5 minutes, stirring often. Remove from heat and let cool for 10 minutes.5
Serve pound cake warm drizzled with amaretto sauce.
IMPERIAL SUGAR INSIGHT
Recipe developed for Imperial Sugar by Jessica Segarra @TheNoviceChef.
BERITA LENGKAP DI HALAMAN BERIKUTNYA
Halaman Berikutnya