Roasted Asparagus, Tomato, & Feta Couscous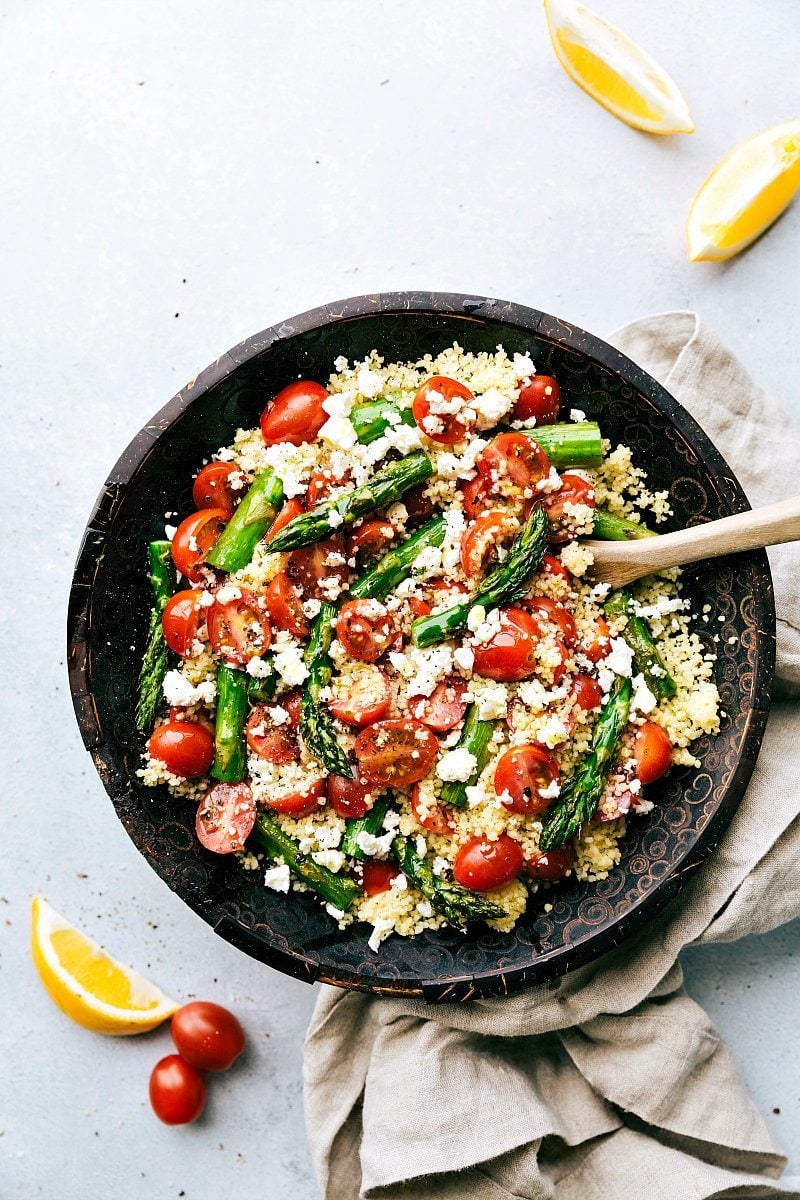 Roasted asparagus, fresh cherry tomatoes, garlicky couscous, and feta cheese with a simple vinaigrette. A great Spring side dish!
It's been pretty busy the last couple of weeks around my place and it's finally time to share what we've been up to (and sorry mom, no more babies just yet ?) …We're MOVING!
It's been a long time coming, but it's finally feeling real as most of our current home is in boxes and they are putting the finishing touches on the home we'll be moving in to. We aren't moving super far from where we are now, but we will be a whole lot closer to the husband's work. We're really going to miss where we are now, but also very ready for his hour (somedays hour +) work commute to be over!
The moving date is all set up for this month and hopefully after we're all settled in I can get you all recipes a little more frequently! Seriously, though, how did I pack everything I owned into the backseat of my car during college apartment moves and now it takes weeks to pack everything up?! ?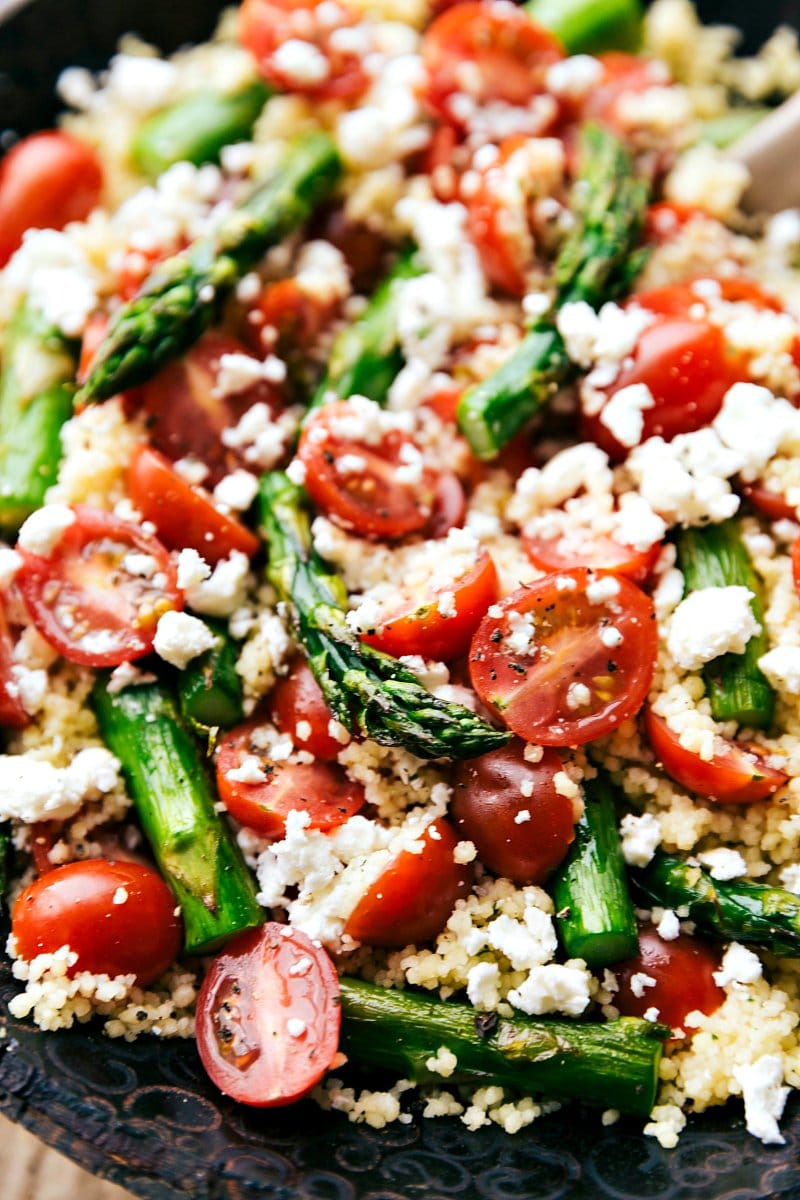 But, in the midst of the crazy my home is right now, I did want to get you this salad before this weekend, because it is perfect for Easter dinner! It's simple to make (a little time consuming, but nothing difficult, I promise!) and it presents so beautifully. My mom makes a similar salad to this every year for Easter and everyone goes NUTS for it (and especially for the roasted asparagus).
A few notes on this Roasted Asparagus, Tomato, & Feta Couscous Salad:
You can also roast the tomatoes with the asparagus if you are a fan of roasted tomatoes. Just add an extra tablespoon of olive oil and toss them on the same tray.
I use a boxed and seasoned couscous mix because I love the flavor it adds to this salad, but feel free to use plain couscous in its place.
The dressing is just a simple balsamic + olive oil dressing with a little dijon for thickness and honey for sweetness. I add in a little extra garlic because I add garlic to pretty much every single dressing (#obsessed), but if you don't love garlic, it still tastes great without it!
And the last thing: you can easily change out the cheese on top. We love feta, but goat cheese is another delicious topping with these ingredients. If you aren't a fan of either, a little bit of freshly grated Parmesan would be delicious (just go light on adding salt to the rest of the salad as to avoid it being overly salty.)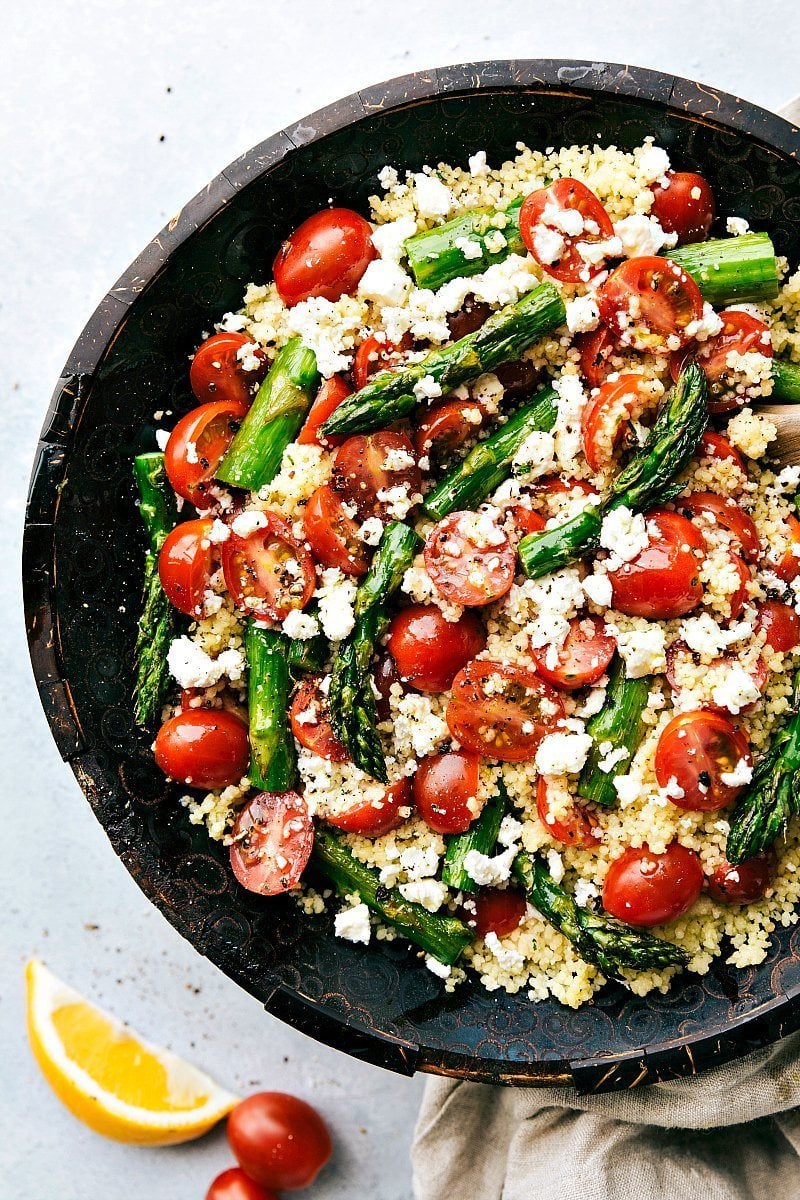 Roasted Asparagus, Tomato, & Feta Couscous
Prep Time
15 mins
Cook Time
17 mins
Total Time
32 mins
Roasted asparagus, fresh cherry tomatoes, garlicky couscous, and feta cheese with a simple vinaigrette. A great Spring side dish!
Course: Side Dish
Cuisine: American
Servings: 6 as a side salad
Calories: 233 kcal
Author: Chelsea
Ingredients
1 bunch fresh asparagus
Salt and pepper
1 fresh lemon
1 package (5.8 ounces) Roasted Garlic and Olive Oil Couscous (I buy the Near East mix, you can substitute 1 cup plain cooked couscous)
3 tablespoons balsamic vinegar
4 tablespoons olive oil, separated
1/2 teaspoon minced garlic
1 teaspoon dijon mustard
1/2 tablespoon honey
1/2 of 1 container (10.5 ounces) ripe cherry tomatoes, sliced
1/3 cup feta cheese, crumbled
Get Ingredients Powered by Chicory
Instructions
Preheat the oven to 425 degrees F. Break off the woody ends of the asparagus. Toss the asparagus, 2 tablespoons olive oil, about 1 teaspoon salt, and 1/2 teaspoon pepper (or to taste) together on a large sheet pan.
Bake in the oven for 12-17 minutes (depending on the asparagus thickness), flipping the spears once halfway into the cooking time. Remove and squeeze 1 tablespoon lemon juice over the spears. Allow to cool and chop into 2-inch pieces.
Meanwhile, prepare the packaged couscous according to package directions. Allow to cool.
While the asparagus is cooking, prepare the dressing. Pour the vinegar in a small saucepan over medium heat. Bring to a boil and reduce until the vinegar is halved (about 1 and 1/2 tablespoons). Allow to slightly cool and toss with the remaining 2 tablespoons olive oil, minced garlic, dijon mustard, and honey. Briskly whisk and season with salt and pepper (about 1/2 teaspoon salt and 1/4 teaspoon pepper, or to taste).
Halve the cherry tomatoes.
Add the cooled couscous, cooled chopped asparagus, and cherry tomatoes to a large bowl. Lightly toss. Add dressing to taste and another fresh squeeze of lemon if desired. Lightly toss again and then top with the crumbled feta cheese. Enjoy immediately.
If you don't plan on eating all of the salad, only dress what you will eat (this salad doesn't sit well with the dressing for an extended time).
Recipe inspired by my Mom's Easter side salad which she got from AllRecipes.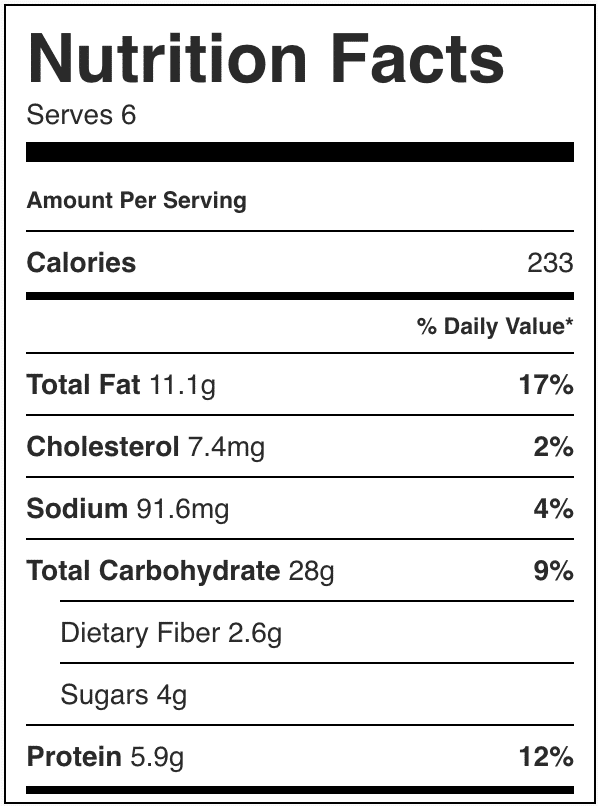 BERITA LENGKAP DI HALAMAN BERIKUTNYA
Halaman Berikutnya