Cheesy Crockpot Tortellini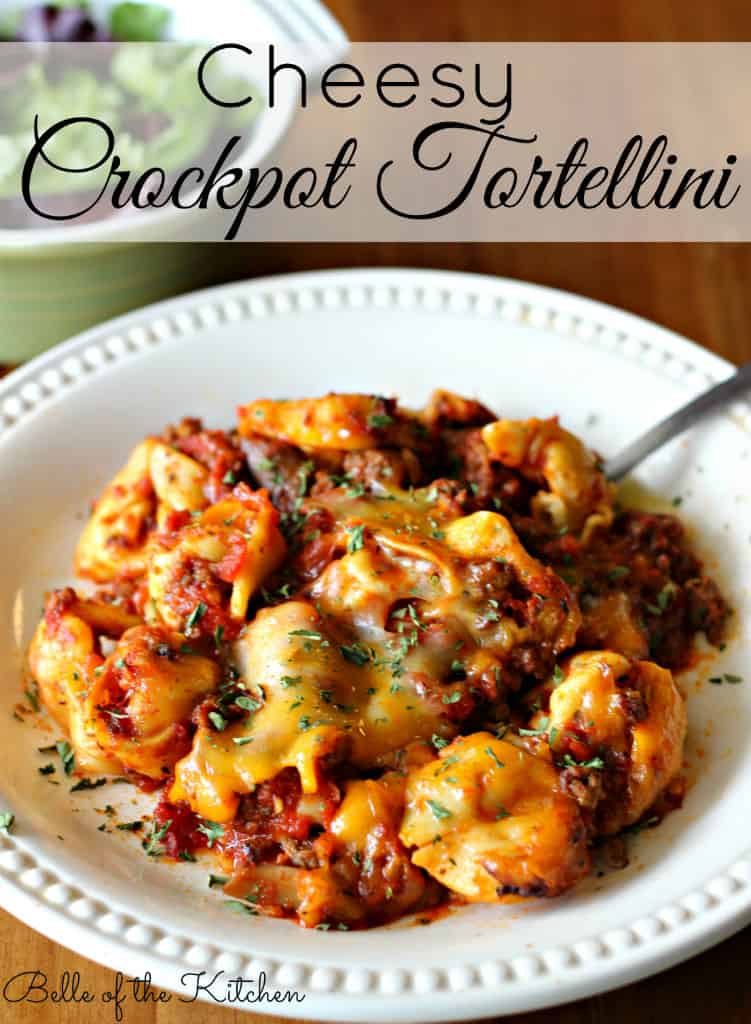 Cheesy Crockpot Tortellini– Need an easy and delicious dinner? Let your slow cooker do all the work of making this rich and flavorful Cheesy Crockpot Tortellini!
It's been pretty busy in our house for the past few weeks. We moved out of our old house, and our new one is finally starting to look a little more organized. Well, a little.
My son also started preschool today! I am over-the-moon excited about this, since we've been on the waiting list since February of LAST year. He was so excited about going to preschool. When I picked him up today, he told me he needed to stay and listen to more stories, so I know he had a great time.
When there's so many different things going on, I love to turn to my friend, the Crockpot. How great is this invention that cooks for you, even when you're out and about and away from home? And with a recipe like this one, the Crockpot is going to be your new BFF, too!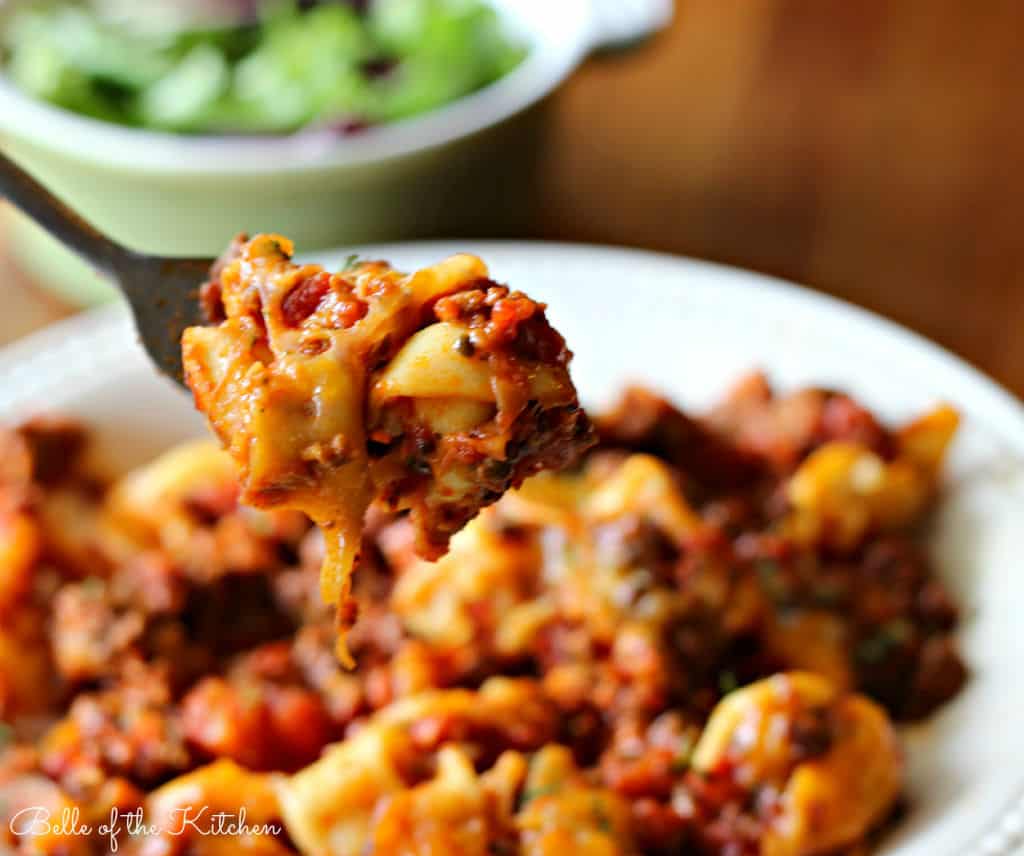 A few years ago when we were stationed in Kansas, I babysat for a friend of mine and ate some leftovers that she had in the fridge. After my first bite of this delicious crockpot tortellini, I knew I had to have the recipe! I've been making it on a regular basis ever since and it has become one of my favorite, easy dinners.
The hardest part about making this is cooking the ground beef and italian sausage, which takes all of five minutes. So really not that hard. The meat sauce cooks all day and is rich and flavorful once it's time to eat. Add in some tortellini, top with cheese, cook a bit longer, and voila! Mmmm delicious dinner!
This is a favorite by everyone at my house. My son tends to be pretty picky, but he absolutely loves this. Pair it with a salad and some crusty bread and you have an easy, cheesy dinner loved by all! I've served it when we've had company, too, and it's always a hit. I do double the recipe for guests, though!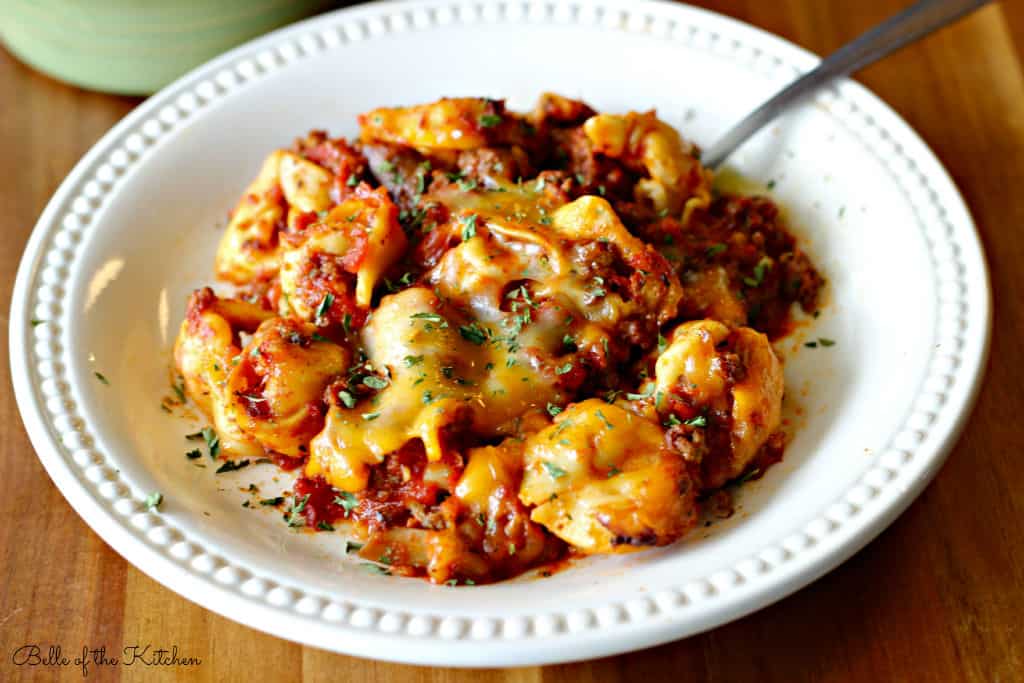 Hope you're all ready for a fantastic weekend ahead!
Cheesy Crockpot Tortellini
Prep Time
15 mins
Cook Time
8 hrs
Total Time
8 hrs 15 mins
Need an easy and delicious dinner? Let your slow cooker do all the work of making this rich and flavorful Cheesy Crockpot Tortellini!
Course: Main
Cuisine: Italian
Keyword: cheesy crockpot tortellini, crockpot tortellini, slow cooker tortellini
Servings: 8
Calories: 371 kcal
Author: Ashlyn | Belle of the Kitchen
Ingredients
1/2 pound ground beef
1/2 pound Italian sausage, casings removed
1 (24) oz. jar marinara sauce
1 (4) oz. can sliced mushrooms
1 (14.5) oz. can Italian-style diced tomatoes, undrained
1 (9) oz. package refrigerated or fresh cheese tortellini
1 cup shredded mozzarella cheese
1/2 cup shredded Cheddar cheese
Instructions
Crumble the ground beef and Italian sausage into a large skillet. Cook over medium-high heat until browned. Drain.
Combine the ground meats, marinara sauce, mushrooms, and tomatoes in a slow cooker. Cover, and cook on LOW heat for 6 to 8 hours.
Stir in the tortellini, and sprinkle the mozzarella and cheddar cheese over the top. Cover and cook for 15 more minutes on LOW, or until the tortellini is tender.
Recipe Notes
Adapted from: Allrecipes
Nutrition Facts
Cheesy Crockpot Tortellini
Amount Per Serving
Calories

371
Calories from Fat 198
Total Carbohydrates

21g
7%
* Percent Daily Values are based on a 2000 calorie diet.
BERITA LENGKAP DI HALAMAN BERIKUTNYA
Halaman Berikutnya